Review of Pureit water purifier models
We review all the models of HUL Pureit water purifiers made by the famous Hindustan Unilever Company. This is the link to the official website of Pureit water purifier and the Pureit water purifier customer care number wiil be avilable here and you can get the contact details of the nearest official Pureit water purifier sales outlet.
HUL Pureit RO Water Purifier Models
We have the full range of HUL Pureit RO Water Purifiers that are available in India complete with detailed specs and online price. For the latest online price of Pureit water purifiers we use the dynamic price Ads of Amazon.in
HUL Pureit Marvella Slim RO Water Purifier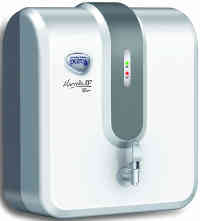 ---
HUL Pureit Marvella RO 10-Litre Water Purifier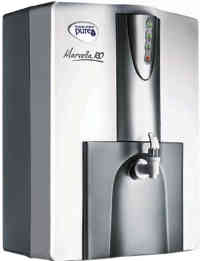 ---
HUL Pureit Marvella RO+UV 10-Litre Water Purifier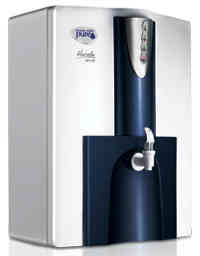 ---
HUL Pureit Ultima RO+UV Water Purifier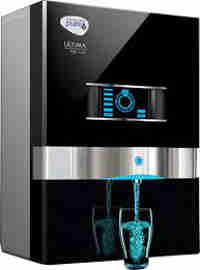 ---
Pureit storage water purifiers
HUL Pureit storage water purifier is based on a gravity type water filter where the water is poured into the upper tank of the water purifier and the water flows by gravity through the water filtration purifier cartridge and collects in the lower purified water tank.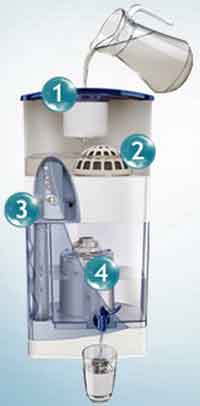 The image on the right or top explains the purification process in a Pureit Storage water purifier. The image shown is the cutaway section of Pureit Advanced water purifier, the largest storage water purifier in this range. The purification steps are as follows:
Microfibre Mesh: Removes visible dirt to give safe drinking water
Compact Carbon Trap: Removes harmful parasites and pesticides to give clean drinking water
Germkill Processor Uses 'programmed chlorine release technology' to target and remove invisible harmful viruses and bacteria and provide pure drinking water
Polisher™ Removes chlorine and other contaminants to make water clear, odourless and great tasting
Best Gravity filter Pureit Classic 23 liter Autofil
The best Gravity filter from Pureit is the Pureit Classic 23 liter Autofil with a list price of ₨.4000- and available online at Amazon.in at a discounted price as shown on the Amazon Ad here
What is Pureit Germkill
Pureit has a replaceable set of consumables named - 'Germkill Kit.
The Pureit Germkill Kit has the following parts
Compact Carbon trap
Germkill Processor
Polisher
All these parts have to be replaced when their design life is over. It is recommended to replace all the three components of the Germkill kit at one time for best results as per USEPA guideline.
Best way to buy Water Purifiers in India
The best way to buy Water Purifiers in India is to first look at all models of Water Purifiers available online at the leading online Retailers in India. For example on the online webpage of All Water Purifiers available in India on Amazon.in, you will find the full range of Indian Water Purifiers complete with their best discounted price and full specifications. This is great information, and you can decide on which model of water purifier to buy. With the model of water purifier you want to buy finalised, you can go to local shops to try and find the model of water purifier you have chosen and see if you can get at similar price of that at Amazon.in. In most cases the price from Amazon will be cheaper, because they buy in bulk from the manufacturers direct and they sell huge volumes because they are the world's largest and most trusted online retailer. If you buy from Amazon, they will arrange to have the water purifier installed in your house, usually free of charge.
Warranty and other facilities offered through Amazon are usually better than what you can get from local agents of water purifiers.
Below are links to all the pages on this website and we hope you will make full use of all the great information about Indian Water Purifiers provided here.