Best Drinking Water Standards in the World
Some of the best drinking water standards in the world are the 'WHO Guidelines for drinking-water quality', 'EPA Drinking Water Standards', British Water Supply (Water Quality) Regulations 2018 (SI 2018/647), Indian Drinking Water Standards BIS-10500, etc. These Global Drinking Water Standards are set by Government Organisations. This is the .pdf link to the complete text of the latest BIS-10500 Indian Drinking water Standard. We also have below a table of BIS-10500, the Indian Water Quality Standards.
The World Health Organisation's - WHO Guidelines for drinking-water quality has a wealth of information and those interested should visit their website. WHO's Guidelines for Drinking-water Quality was set up in Geneva in 1993. These standards are the international reference point for for drinking water standards.
For India these standards are set by the Bureau of Indian Standards - BIS, the erstwhile Indian Standards Institute – ISI. The relevant BIS standard is BIS: 10500 available from the BIS site www.bis.gov.in
For those of you interested in seeing the American Water Standards set by the internationally famous Environmental Protection Agency - the EPA Water Quality Standards, please visit the EPA site
Here below please find a copy of the main parameters set by the Indian Drinking Water Standards authority known as the BUREAU OF INDIAN STANDARDS.
The table here is sometimes modified by the Government of India. So for the latest Indian Standards for drinking water it is recommended to visit their website
Please note that all figures in the table below are in ppm or mg/L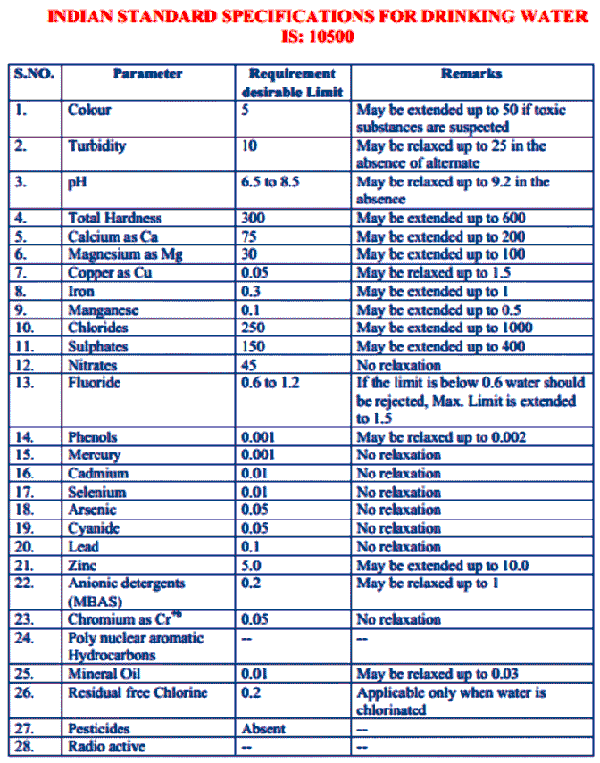 Best way to buy Water Purifiers in India
The best way to buy Water Purifiers in India is to first look at all models of Water Purifiers available online at the leading online Retailers in India. For example on the online webpage of All Water Purifiers available in India on Amazon.in, you will find the full range of Indian Water Purifiers complete with their best discounted price and full specifications. This is great information, and you can decide on which model of water purifier to buy. With the model of water purifier you want to buy finalised, you can go to local shops to try and find the model of water purifier you have chosen and see if you can get at similar price of that at Amazon.in. In most cases the price from Amazon will be cheaper, because they buy in bulk from the manufacturers direct and they sell huge volumes because they are the world's largest and most trusted online retailer. If you buy from Amazon, they will arrange to have the water purifier installed in your house, usually free of charge.
Warranty and other facilities offered through Amazon are usually better than what you can get from local agents of water purifiers.
Below are links to all the pages on this website and we hope you will make full use of all the great information about Indian Water Purifiers provided here.