Whirlpool Water Purifiers in India
Whirlpool is a giant multinational company and started doing business in India in late 1980 with a joint venture with TVS group. In 1995 Whirlpool bought the company Kelvinator India Limited. In 1996 Whirlpool of India Limited was established with head office in Gurugram, near Delhi and merged all their Indian assets into this one Company. Whirlpool now has manufacturing facilities in Faridabad, Pondicherry, Pune and is now a leading company in India producing washing machines, refrigerator, microwave ovens and air conditioners.
In USA Whirlpool is he leading manufacturer of Refrigerator Water Purifiers. Refrigerator water purifiers are used with fridges having automatic ice making machines and water dispenser. So it was natural for Whirlpool to enter into the water purifier business in India. More from the website of Whirlpool Water Filters
Latest Whirlpool water purifier Destroyer review
The Whirlpool Destroyer World 61005 6-Litre Water Purifier is the latest in the Whirlpool range of water purifiers. This is a very unque water purifier. It does not require electriciy to work, but even then, it performs as good as an RO water purifier. It removes dangerous heavy metal contamination from water and also gets rid of all bacteria, virus and cysts from water. It is also cheap at less than half the price of some of the cheaper models of RO water purifiers.
It should be noted that the Whirlpool Destroyer water purifier should only be used with water under 500 ppm TDS. What TDS means is explained in our page on water impurities.. Municipal or Corporation supplied tap water in the major cities of India are normally under 500ppm TDS. So for city tap water the Whirpool Destroyer water purifier is ideal. This purifier is not ideal to use with brewell or well water. For that we recommend an RO water purifier.
Here is a picture and specifications of the Whirlpool Destroyer water purifier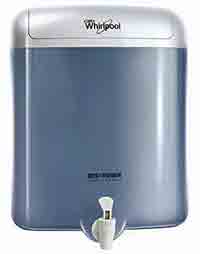 Technology:

5 stage purification with unique EAT (Electro Adsorption Technology) filter element; Whirlpool Destroyer EAT filter element needs replacement only once in 4 months for average use



Suitable for:

Water from Municipal taps



Water storage capacity:

6 litres of purified water



Purified Water Flow Rate:

20 litre/hour



Mounting:

Wall mounting



Colour:

Greyish White



Dimensions (mm):

Height=360, Width=280, Depth=230



MRP:

Rs.7,990-



Best online Price Rs.2,985-?:
The Whirlpool Destroyer Water Purifier is a wall mounted water purifier with 6 litres purified water tank. The special EAT filter element in the Whirlpool Destroyer Water Purifier can purify upto 2200 litres of water, after which it should be replaced. For a normal house with 2 adults and 2 children, the average drinking water usage for both cooking and drinking is about 15 to 20 litres. This means that each Whirlpool Destroyer Water Purifier EAT replaceable filter cartridge element should last for about 4 months. Any way there is an automatic cutoff in the Whirlpool Destroyer water purifier when it reaches maximum capacity.
These are the filtration steps in a Whirlpool Destroyer Water Purifier
External cartridge pre filter
Mechanical filtration screen which removes any remaining sand, dust and other solid particles remaining after passing through the pre-filter
Electro adhesion filter element. This is a highly positively charged filter media which can adsorb, that is to act like a magnet and remove the negatively charged bacteria, viruses and cysts (the tiny eggs of some parasites present in water)
Ion-exchange resin which can remove heavy metal ions like that of Arsenic and Lead.
Activated carbon which adsorbs and removes chlorine, organic chemicals like pesticides and endotoxins.
You can see a video of how the Whirlpool Destroyer Water Purifier works below
How Whirlpool Destroyer water purifier works
Best way to buy Water Purifiers in India
The best way to buy Water Purifiers in India is to first look at all models of Water Purifiers available online at the leading online Retailers in India. For example on the online webpage of All Water Purifiers available in India on Amazon.in, you will find the full range of Indian Water Purifiers complete with their best discounted price and full specifications. This is great information, and you can decide on which model of water purifier to buy. With the model of water purifier you want to buy finalised, you can go to local shops to try and find the model of water purifier you have chosen and see if you can get at similar price of that at Amazon.in. In most cases the price from Amazon will be cheaper, because they buy in bulk from the manufacturers direct and they sell huge volumes because they are the world's largest and most trusted online retailer. If you buy from Amazon, they will arrange to have the water purifier installed in your house, usually free of charge.
Warranty and other facilities offered through Amazon are usually better than what you can get from local agents of water purifiers.
Below are links to all the pages on this website and we hope you will make full use of all the great information about Indian Water Purifiers provided here.