Brita water jugs now available in India
The world famous Brita water pitchers or jugs are now available in India. In India the Brita water pitchers are sold under the name of Marella XL Water Filter Jug, a product made by the joint veture between Brita and the famous Indian Company Sriram USHA
Marella XL Water Filter Jug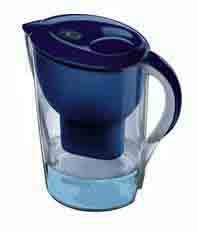 Marella XL Water Filter Jug with a volume of 2 Litres of purified water (total volume 3.5 Litres). It has convenient flip-top lid which allows Single-handed filling without removing the lid. The jug is provided with an electronic battery operated Cartridge Change Indicator to remind you to change the cartridge after 4 weeks.Maximum Retail Price or MRP Rs. 1295-.
More from the Usha Brita site.
Usha Brita water purifier WATERGUARD Max
Usha Brita WATERGUARD Max is an offline (Storage type), table-top water purifier. Unique 4-Stage water Purification- based on Demand Release Iodinated Resin. The unique cartridge system imparts Bacteriostatic properties to the purified water (it can be stored for 48 hrs without any regrowth of bacteria). It is a two-container system which has a total storage capacity of 23 liters with a self-regulatory flow control to avoid spillage. The complete system is made of food grade material with a transparent top container to monitor the Water Level.
A water level indicator is provided on the bottom tank to see the level of purified water available in it. It employs a special World Wide Patented Technology to eliminate germs, suspended impurities &chemicals to purify water while improving its taste.
The unit has been tested & certified by leading German & Indian Institutes & Laboratories. Long life Cartridges- capable of purifying up to 1500 liters of water per set of cartridges. No Plumbing (running water) or Electricity is required. Maximum Retail Price or MRP Rs. 2999-.
Best way to buy Water Purifiers in India
The best way to buy Water Purifiers in India is to first look at all models of Water Purifiers available online at the leading online Retailers in India. For example on the online webpage of All Water Purifiers available in India on Amazon.in, you will find the full range of Indian Water Purifiers complete with their best discounted price and full specifications. This is great information, and you can decide on which model of water purifier to buy. With the model of water purifier you want to buy finalised, you can go to local shops to try and find the model of water purifier you have chosen and see if you can get at similar price of that at Amazon.in. In most cases the price from Amazon will be cheaper, because they buy in bulk from the manufacturers direct and they sell huge volumes because they are the world's largest and most trusted online retailer. If you buy from Amazon, they will arrange to have the water purifier installed in your house, usually free of charge.
Warranty and other facilities offered through Amazon are usually better than what you can get from local agents of water purifiers.
Below are links to all the pages on this website and we hope you will make full use of all the great information about Indian Water Purifiers provided here.